CHRISTENING IDEAS
Sydney Wedding Planning & Party Stylist Company
How To Plan Your Child's Christening
Congratulations on your new bundle of joy! A new baby is such an exciting time in life and once the dust settles it's time for one of your baby's big firsts; a Christening. Family, friends, neighbours, and church-goers are anxious for a glimpse of your child on this special introduction to the wider community. It's an incredible honour for the new godparents who will look over your child for the rest of their lives.  
Christenings are such an important event. Rich in symbolism, the event isn't just a simple ritual; it's a beautiful welcome that signifies the child's official place in the church. It's also a fabulous opportunity to gather your loved ones at a super cute party after the church ceremony.  
However, planning the event is a whole other ballgame that comes with a bucket of stress. As Sydney's top event and wedding planners, SASS Events is here to make your Christening and reception easy as pie. Keep reading for a look at our tips to help you pull off a Christening you'll love.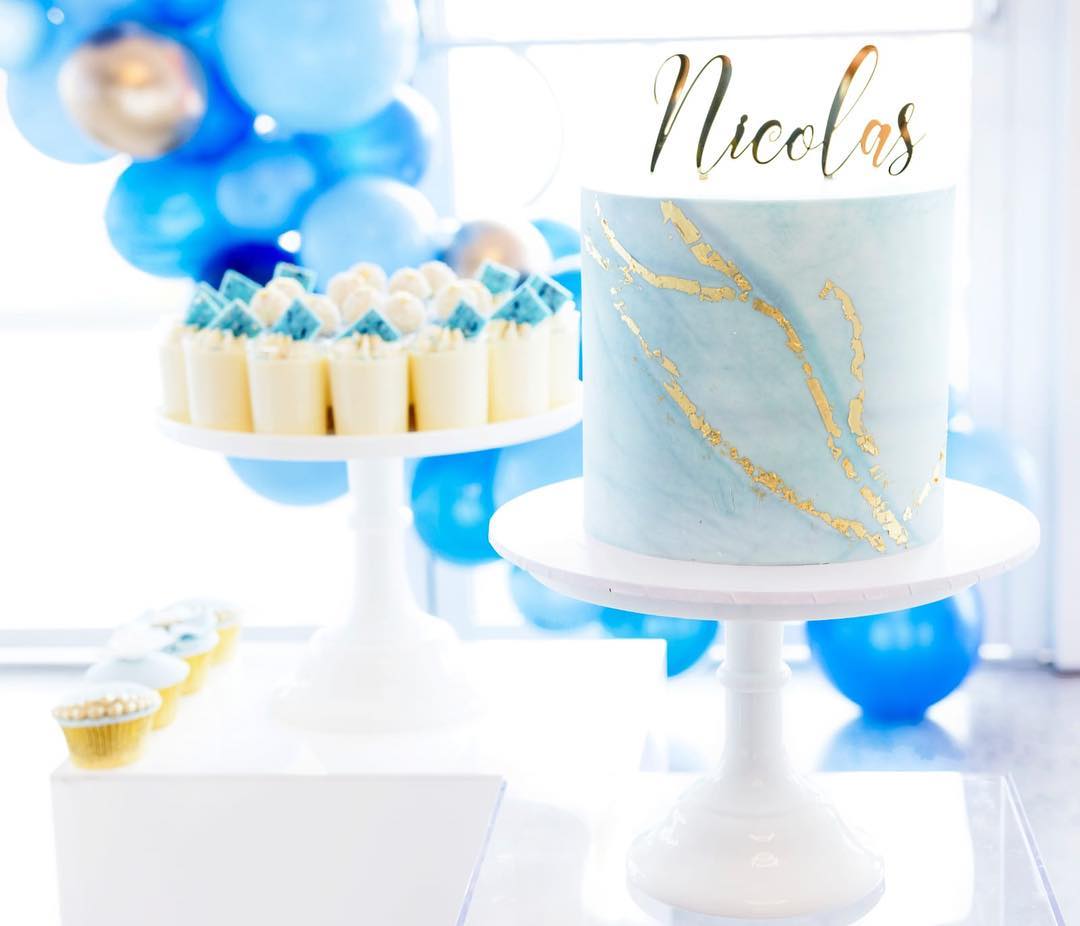 Throw Out What Your Friends Have Done Before
It's easy to come up with a plan based on what other families have done before. However, your child is special and deserves a Christening tailored exclusively to them. Planning a unique christening party to match your personal tastes and baby's personality will create beautiful memories you can share with your child later in life.
Church altars can be decorated with floral arrangements filled with blossoms of different types and colours. Depending on the season, you can choose brightly coloured blooms for a playful feel or a monochromatic look for something more sleek and modern.
Choosing a theme is an easy way to make your Christening ceremony and reception cohesive. Creating a theme that's displayed at both settings will immediately elevate the day.
Here are some ultra-sweet themes to get you started:
Angels – Perfect for a religious ceremony, an angel themed christening party is ideal for the perfect little angel in your arms. Crisp whites, blues, yellows, or pinks are heavenly colours for this angelic theme.
Bumblebees – Cheery and sweet, a bumblebee christening will have guests buzzing over this theme that's as sweet as honey.
Animals – Always a great choice, animals are to-die-for cute. Sloths, monkeys, giraffes, cows, cats, puppies, squirrels, elephants, hedgehogs or any other animal you love is perfect. Gorgeous with lush greenery and bright blooms, animals can be customized just for your tyke.
Sports- Perfect for boys or girls, a sports theme is ideal for an active family who loves to play. Got a future Olympian on your hands? Cupcakes with cute football or basketball toppers will make your guests smile.
Tropical –Great for parents who love the happy vibes that come with the brilliant hues of the beach, tropical themes are more than just palm trees and water. Seashells, seahorses, starfish, coconuts and more are all unique themes that can make a lasting impact on such an important day.
Regardless of the theme you choose, there are hidden benefits to planning a unique Christening party filled with bright and beautiful elements. Scents from fresh flowers and vibrant shapes like hearts, moons, and stars stimulate your little one's developing brain. As they become aware of their surroundings with all the sights, sounds, and smells, their neurons create new pathways that can lead to faster development. And, as a bonus, a marvellous theme means you'll take the prettiest pictures to share on social media.
Paint The Town With Peppy Colours
Long gone are the days of pink and blue for girls and boys. Anything goes! If you're not keen on a particular theme you still create a unique look with an eye-poppin' colour palette. Some couples choose colours that match their baby's nursery, and others choose something entirely different. Try flipping through some interior design magazines for colour inspo you like. Some of our favourites are:
Mint green and soft yellow: So fun–and great for all babies! This colour combo pairs perfectly with pictures of quirky suns, stars, or wedges of watermelon.
Red, white, and blue: a classic combination that looks fab with a nautical theme. Try adding knots of rope or twine to the decor for some extra oomph.
White and silver: Stunning, sleek, and chic, this colour combination packs some drama! White linens and silver dinnerware with snow-white desserts, flowers, and balloons will leave your guests wanting more.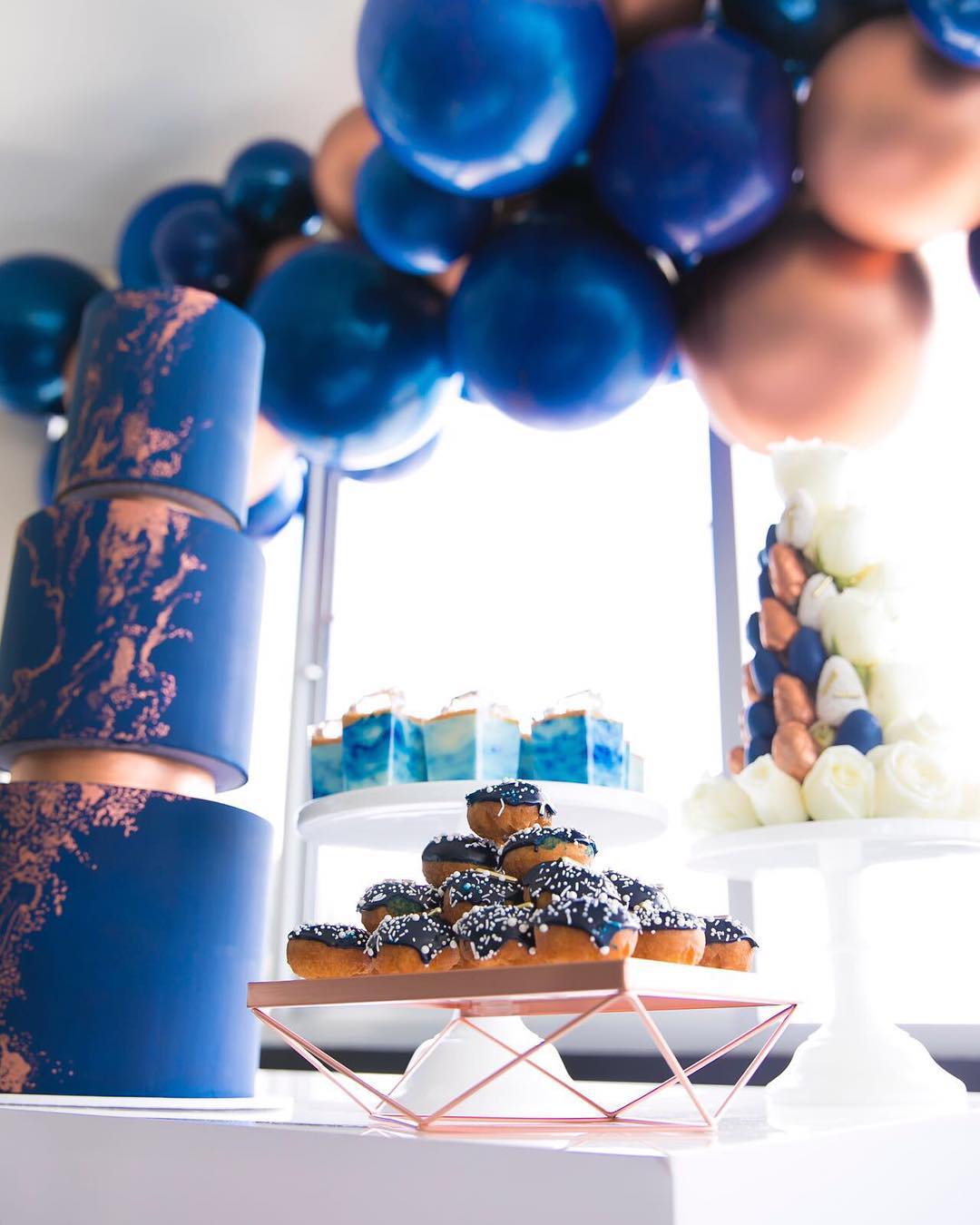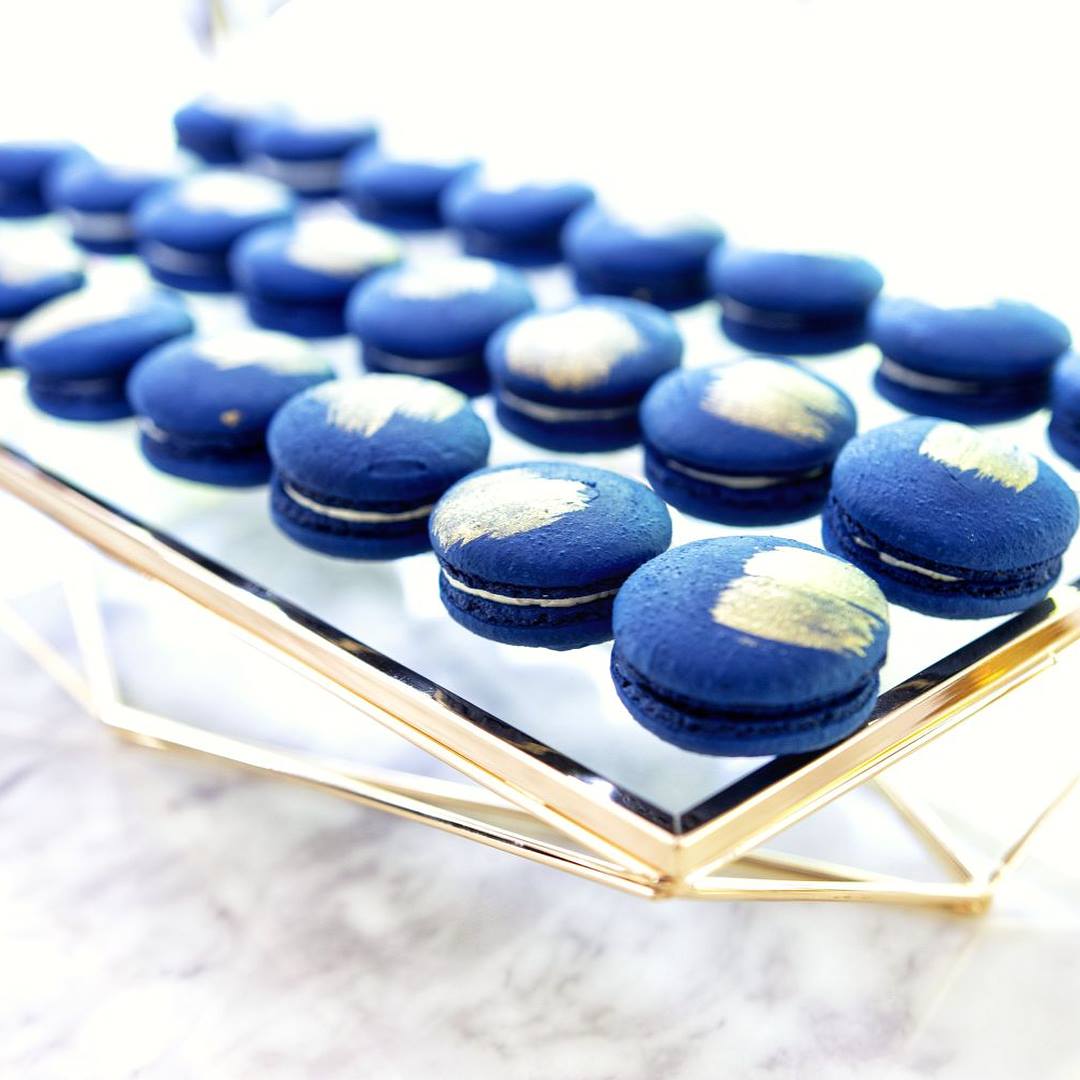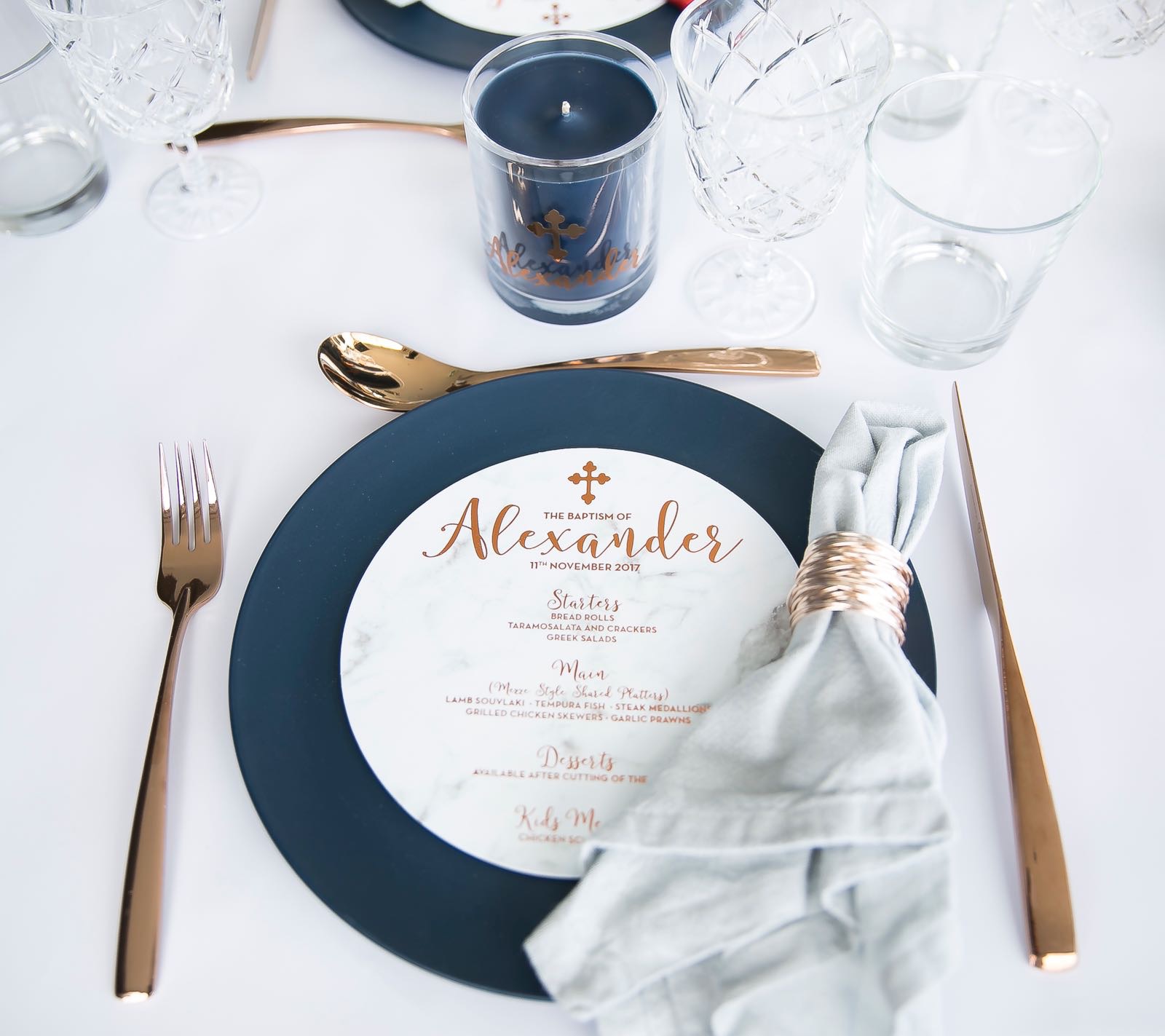 Turn The Reception Into An Adventure Of Flavours
After the ceremony, it's time to gather for the best part– the food! Depending on your particular customs, your family can choose anything from a full-course meal to snacks and dessert. Whichever you choose there are a few things you can do to guarantee your party is uniquely delectable:
Hire a professional pastry chef or cake baker: If you can, splurge on a mind-blowing dessert. Hand-crafted macaron cakes, artisanal cupcakes, or a multi-tier cake will guarantee your Christening is remembered as a mouth-watering ending to a wonderful day. If you'd prefer to do the sweets yourself, simple frosted cupcakes can look svelte when they match your colour palette.
Create a signature (virgin) drink for the event: Signature drinks are all the rage and it doesn't mean alcohol is involved. Try mixing up some of your favourite fruit juices with sparkling water or citrus pop to create a drink named after your little one. Serve it in gorgeous glasses for a classy touch with a slice of fruit like peach or pineapple.
Serve In-Season Delights: If you're hiring a caterer, make sure they're using fruits and vegetables that are in-season for the freshest, most delicious menu possible. Even if you're making the refreshments yourself, try to grab in-season produce for compliments from everyone attending.
There are a lot of details that go into a great Christening party. Floral arrangements, lighting fixtures, concept designing, sourcing props, set up, take down and more. It's easy to spend tons of cash and slave all day in the kitchen preparing for the party. Coordinating with all the vendors, the church, the reception area, plus dealing with family, godparents, and friends on top of a new baby can get nuts!
But let's face it: The prospect of putting together a Christening that makes your guests gush can fill even the most organized person with dread. If you can't bear the thought of haggling with vendors and wrestling with spreadsheets you can always hand over the responsibilities to a planning service like SASS Events—you'll get a customized party without having to spend the time and effort planning one. Schedule your free consultation here. With a creative flair and an eye for style, your party will be a dream come true. With SASS Events you get experts in planning and design so you'll enjoy a heavenly Christening for the newest love of your life.
beautiful weddings and events come to life
Throw the party everyone wants an invitation to.
Whether you'd love a sparkly unicorn bash, a heart-warming Christening, or an ultra-luxe wedding, we'd be thrilled to take the hard work off of your plate. Schedule a free consultation with us to get started. We respond quickly--  a knockout party is too good to wait!
As premium event and wedding planners, we turn your wishes into brilliant events worth remembering.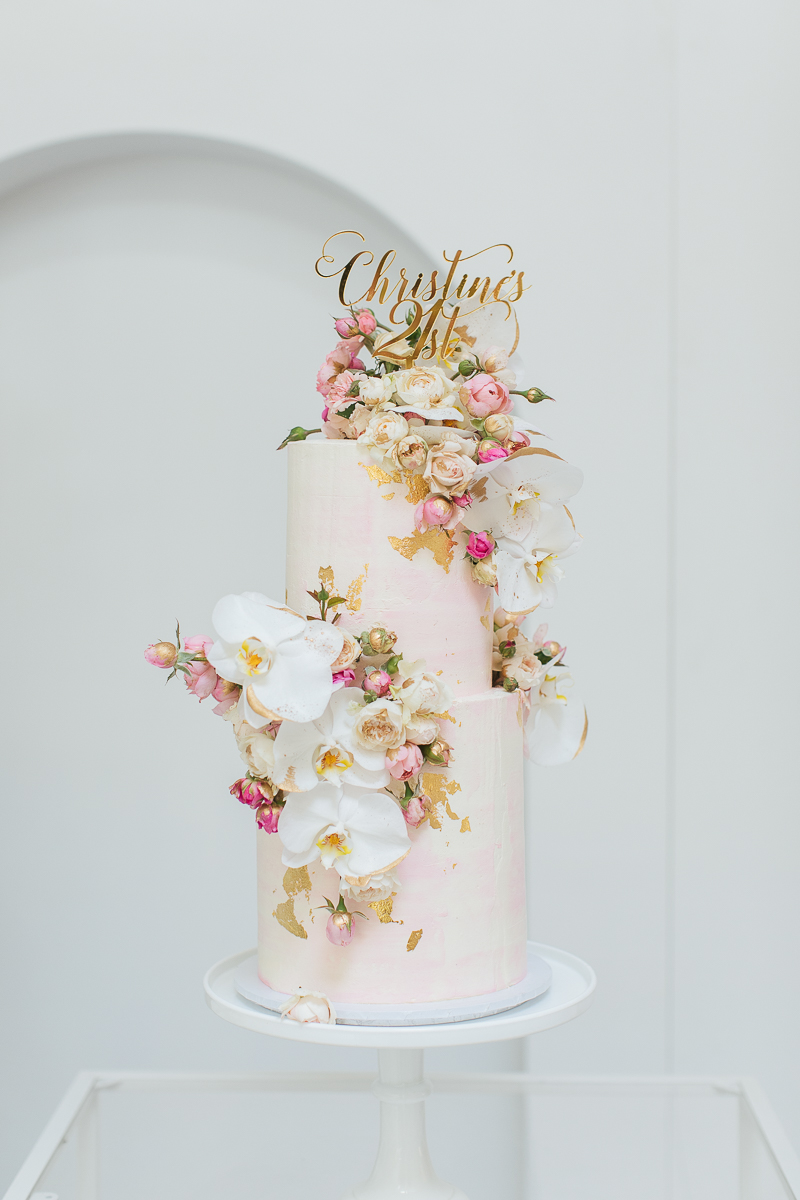 SELECT A TIME IN MY CALENDAR